Your Profile
Jeremy
Discussion I Made about 6 years ago
If you have a couple of spare minutes, go and have a look at Where's Jerome DYI video clip for My Hiroshima, it's pretty cool
---
Comment I Made about 7 years ago
---
Discussion I Made about 7 years ago
WHERE'S JEROME are launching their Dreamboat EP at Spectrum, Sat April 19th. Also playing are...
TOKYO BLONDE who are rad and fun.
GREAT APES who are rad, fun and quite hysterical.
and the first live performance of...
GO/NO GO a supergroup of former olympic city size proportions featuring members of olympic size guitar bands such as 78 Saab, The Accidents, Phonograph and many many more.
A night not to be missed, unless of course you have to attend something that you could have easily gotten out of and will almost definitely look back on in the not to distant future with a tinge of regret knowing that that's a few hours that you will not get back that could have been better spent had your taste in music, friends and social activities been not so misguided and malnourished...oh well, love to see you there.
---
Discussion I Made about 7 years ago
We're doing Midnight Oil and Men at Work and we've designed the night so that Keegan O'shea HAS to come coz he knows every band on the bill and everyone knows Keegan is like Eden Monaro, if he's there, everyone is!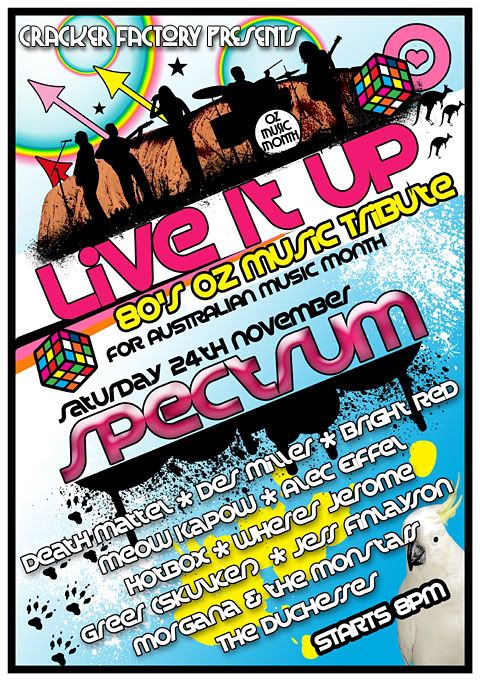 ---
Comment I Made about 8 years ago
---
Comment I Made about 8 years ago
So we've settled on "chime" yeah? Good. Although I think he does sing "rhyme" but hey, lets not confuse the issue as I know how easily the issue gets confused.
Yes, please fucking SING!! If that was supposed to lure me onto this wretched website it won't work.
---
Comment I Made about 9 years ago
Oh, and theres also The Rebel Belles performing, I think it's burlesque... Bell is the new Wolf Did I miss some kind of birthday do Monty? I can't recall being invited.
---
Discussion I Made about 9 years ago
The Mares, Altona, The New Black and Old Kent Road play for the Sandwich Club this Thursday 24th August at Candy's Apartment, Starts around 8.30pm, could be music heaven, might be a bloodbath, in any event it shall be entertaining.
That is all
Rubadubdub
---
Statistics
Logged In about 7 years ago.
Jeremy has been a member since . Starting 4 Topics, replying times and has 2 Friends on Mess+Noise.