Your Profile
bubblegum
Comment I Made about 1 month ago
---
Comment I Made about 1 month ago
Geez... you make it sound like such a chore
---
Comment I Made about 3 months ago
Oops, didn't realise the flyer didn't have an address (I didn't make it). Nothing a quick google search wouldn't have solved. Orion was actually the opening band and I don't think the warehouse space has a name. It's on the corner of Railway Rd and the Princes Hwy in Tempe for future reference. Merry Christmas
---
Comment I Made about 3 months ago
Very worthwhile :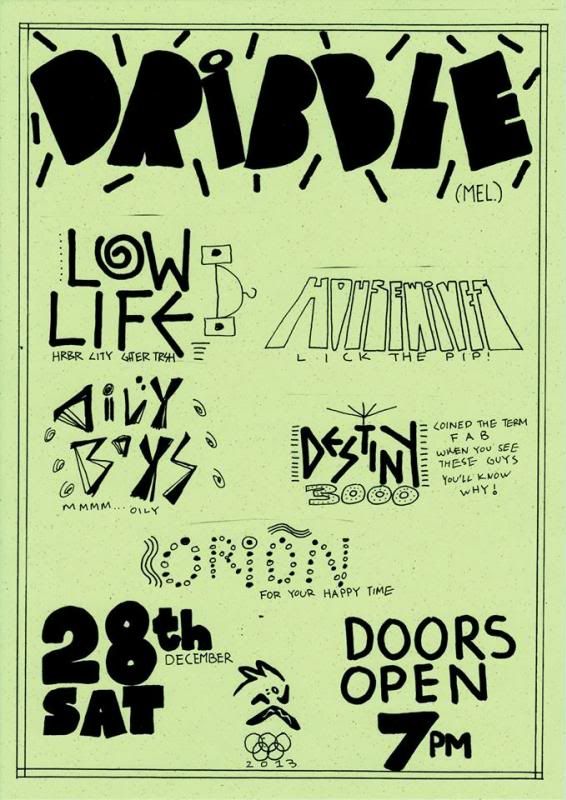 ---
Comment I Made about 5 months ago
I got a Gap pressing of Hex from Egg in Sydney about 6 months ago and I recall seeing one in Revolve around the same time too. Both were $25-$30. Probably the same ones yokota is talking about.
---
Comment I Made about 7 months ago
Freestone - Bummer Bitch
epic as
---
Comment I Made about 8 months ago
---
Comment I Made about 1 year ago
I recall when this was first announced reading that the tapes would be released as 2 7''s. Surely they will be repressing the Section Urbane EP. I bloody hope so anyway!
---
Comment I Made about 1 year ago
---
Discussion I Made about 1 year ago
Out now on Heinous Anus records - a new four track EP and debut vinyl commitment from Geelong's finest band of DEVOtees. Ausmuteants fork over a handful of keyboard driven punkers and dare I say a more focused release than last year's fantastic (and painfully limited) Split Personalities cassette.
Limited to 300 numbered copies.
Amazing cover art drawn by Sam Wallman - http://penerasespaper.tumblr.com/
Email heinousanusrecords(at)gmail(dot)com to order one. We still have plenty of Ghastly Spats EP's left too!
$11 for one 7" ppd within Australia $20 ppd for both
---
Statistics
Logged In about 1 month ago.
bubblegum has been a member since . Starting 4 Topics, replying times and has 0 Friends on Mess+Noise.